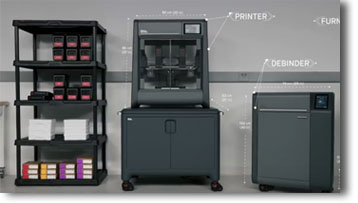 See the video:
https://www.youtube.com/watch?v=W_jcYga95aY

Sources:
1) https://all3dp.com/1/3d-metal-3d-printer-metal-3d-printing
2) https://www.desktopmetal.com
New technology in metal 3D printing has contributed to a desktop metal 3D printer as well as companion production version being offered by an American company called Desktop Metal. Up until now, expensive direct metal laser sintering technology has been used for 3D metal printing. While Desktop Metal's desktop printer cost is nowhere near desktop plastic 3D printers, it has brought costs down substantially and made desktop metal 3D printing a reality. BMW, GE, Google, Lowe's and others have made investments in this company.

Founder Jonah Myerberg says, "We are launching the Studio System with seven core materials – a couple of stainless steels, carbon steels, a couple of super alloys – Invar, kovar, and copper."

Desktop Metal uses a patented Bound Metal Deposition fusion process binding metal powders to a polymer mix using injection molding for their desktop machine. Their printer produces metal parts down to a 50-micron layer resolution. Post-processing after printing is done to melt away the polymer binding agents, to produce a true metal object. This post-processing is done by placing the part in an office-safe furnace that heats the part at 1,400 °C.

The production metal 3D printer uses a single pass jetting process depositing metal followed by a binding agent, then the printed piece is post-processed in a furnace. The production printer has over 32,000 jets that can spray millions of droplets per second.